Presented by Cocoloco
Be amused for hours by Audrey and Audrey, the cleaners who talk more than they clean.
Cleaners who talk and sing more than they clean. Audrey & Audrey have a stack of hilarious jokes, mime to keep you entertained.
Dates/Times/Locations:
2 September: 2pm - Carter Lane
9 September: 2:45pm - Aldgate Square
Duration: 30 minutes
What to expect: Theatre / Comedy / Interaction / Walkabout performance / Family friendly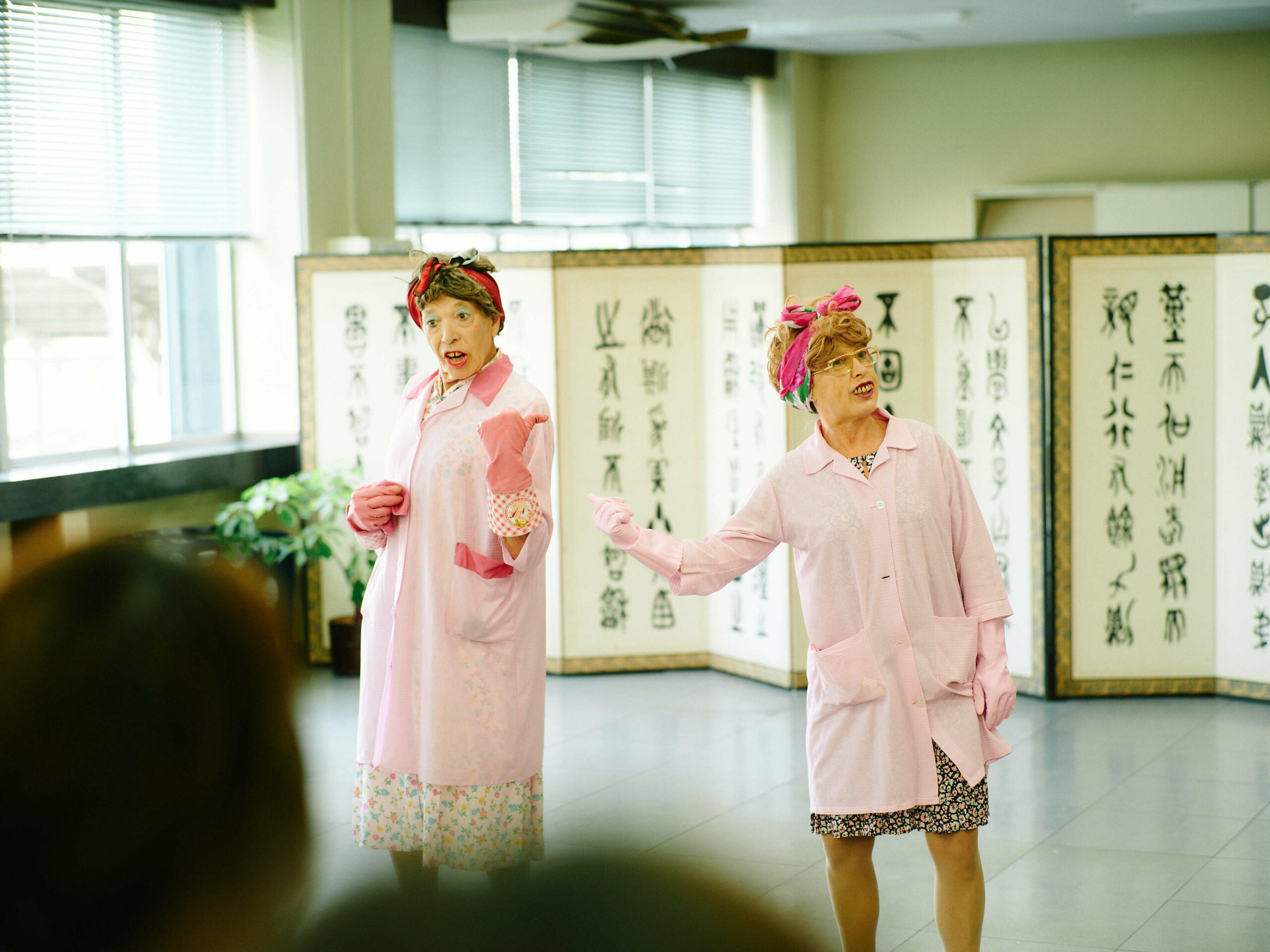 About Cocoloco
Cocoloco has created innovative and allegorical street theatre on streets and in unconventional spaces for 23 years. So much work in street theatre has become saccharin, but Cocoloco remain true to the original ambitions of the genre - street theatre that turns people's minds... art that changes lives and opinions...
The quality of our work is evidenced through multiple tours and presentations of esteemed creations including Dr Yaya, The Pilgrimage, Willy & Wally, Hitler & Eva, Alan & Alan, Alice & Alice and Dali & Gala.
Cocoloco's manifesto embodies a multitude of things theatrical, essentially, that difficult ideas and complex problems can be expressed in accessible ways for everybody to enjoy and understand. All art contains keys to the doors of perception, existentialism, the life behind the mask and often, innuendo. Cocoloco loves to present events that flood the audience with imagery and crazy ideas which you can take home and even mull over in your sleep.
Our ability to engage a diverse audiences is evidenced by the demand for our productions at theatre festivals across the world - Britain, France, Holland, Belgium, Germany, Austria, Italy, Spain, Portugal, Denmark, Finland, Iceland, Japan, China, Singapore, Australia and New Zealand.
"Amazing". "extraordinary" "The Best Thing" "not to the missed" "so clever and witty" "brilliant" "we want more" "FUNNY"
"This British performance company with a love of the bizarre and its relationship to everyday life specializes in peripatetic performance….."
Andrew Bleby, Director Festival Melbourne 2006
"…they are clever…. anarchic, eye-catching, idiosyncratic, quirky and wildy funny street theatre…"
Ian Scobie, Arts Projects Australia, Womadelaide
"…typically British brilliant street theatre…"
Katrina Sedgwick, Director, Adelaide Film Festival
"…intelligent roving theatre… to be studied close-up.."
Adrian Evans, Director, Thames Festival London
"Cocoloco....act mad but in such an elegant, funny way that the whole town
will be infected......the high art of madness to perfection..."
La Strada - Graz, Austria
"…scurrilous and taboo-less theatre…"
Jim Whiting, Director, Bimbo Town, Leipzig
"Cocoloco...stands for crazy, intelligent and entertaining street theatre..... making everyday situations unusual and strange .....surprising and amazing....."
Lienz Street Theatre Festival
"Cocoloco reaches the parts that no other theatre or performance company gets to"
Kampfnagel and Harald Falkenberg, Hamburg
"Cocoloco… is surreal, sometimes black, always with the emphasis on irony and satire. They come from film and experimental backgrounds..a unique working relationship where improvisation always ends in chaos and laughter…."
Tempodrom kulturbureau - Berlin
"We employ Cocoloco on a regular basis. Dali and Gala are spectacular. Trevor Stuart not only looks like Salvador Dali we think maybe he is!"
Dali Universe, London