Presented by Dizzy O'Dare
An eccentric journey with glorious hot air balloons gliding through the City of London streets by Dizzy O'Dare.
Enter the madcap world of Dizzy O'Dare where nothing is quite as it seems.
Whilst Phileas Fogg and his valet Passepartout attempt to circumnavigate the world in just 80 days. The year is 1872 and it's day 79 of the journey. Our intrepid adventurers are just hours away from crossing the finish line, if they can just coerce their hot air balloons to go in the right direction they stand to win a grand prize.
Dates/Times/Locations:
31 August: 3pm & 4:45pm - St Paul's Churchyard (Northside) & 6:45pm - Paternoster Square
1 September: 3pm & 5:15pm - St Paul's Churchyard (Northside) & 6:45pm - Paternoster Square
2 September: 1:15pm* & 3:15pm - Paternoster Square & 5:30pm - St Paul's Churchyard (Northside)
*This is a change to the printed programme - performance is now at 1:15pm instead of 1:45pm
Duration: 30 minutes
What to expect: Interactive / Theatre / Comedy / Walkabout / Family Friendly / Great for kids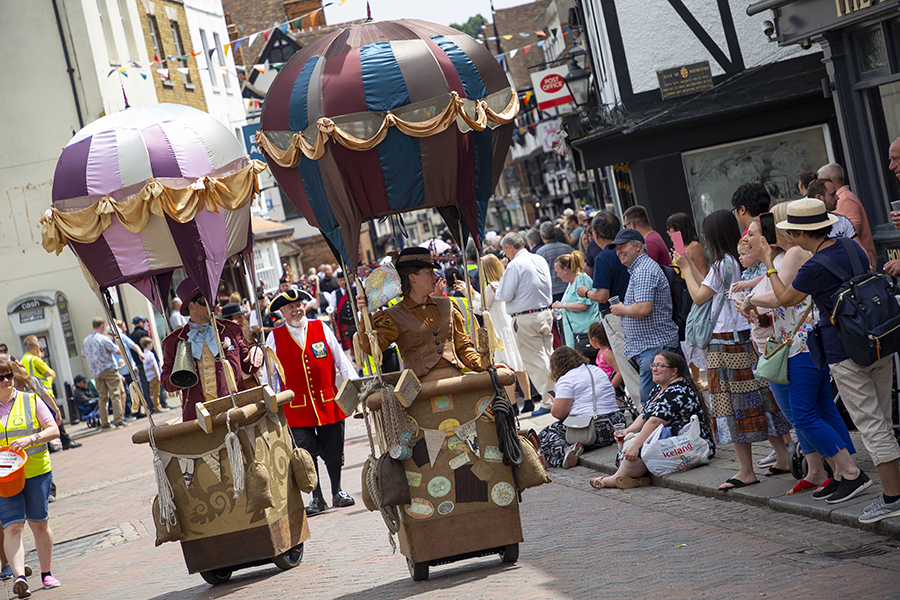 Watch the show trailer:
About Dizzy O'Dare
Dizzy O'Dare is a contemporary circus and outdoor theatre company. Since 2009 they have produced over 20 shows and walkabouts, touring extensively, and delighting audiences across the globe.
Dizzy O'Dare deliver award winning productions to those who would not normally experience it. From the weird to the wonderful, the silly to the sublime. Their work is presented in outdoors and non traditional spaces delivering a range of shows from large scale circus to one man clown shows.
Quotes from the audience
'Bunch of nutters, we were howling!'
'Best thing of the weekend, you were amazing!'
'Absolutely our favourite show, I would travel many miles to laugh like that again.'