Presented by Worldbeaters
Mysterious characters made of light and sound will take you on an extraordinary and mesmerising journey.
The original LED drummers, Spark! is captivating, memorable and unique. No two Spark! shows are the same. High impact drumming and vibrant musical arrangements, beautiful lighting design, dynamic choreography, dazzling costumes, and lovable characters; this show is a must see.
Dates/Times: 14 September: 5pm & 7pm / 15 September: 4:45pm & 6:45pm / 16 September - 2:45pm & 5pm
Location: starting at Lloyd's of London, Lime Street.
Duration: 30 minutes
What to expect: Walkabout / Interactive / Live music / Light up costumes / Family friendly / Great for kids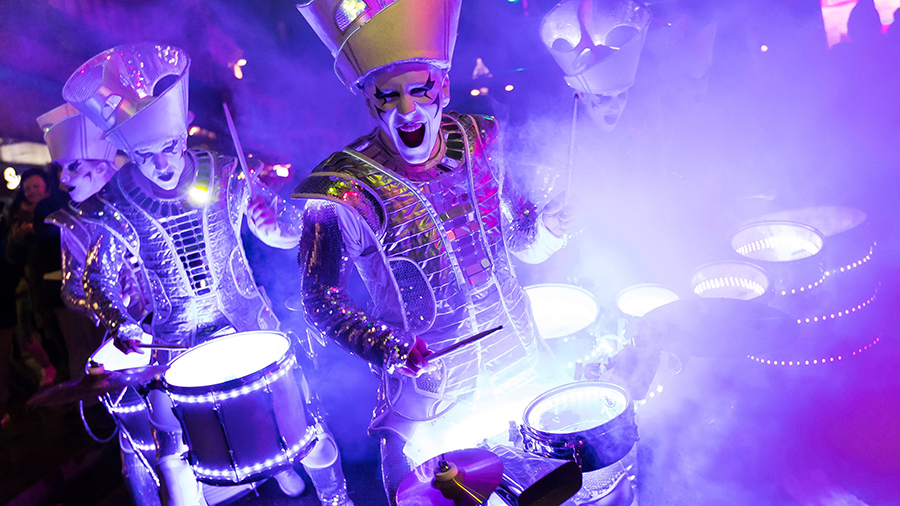 About Spark! Worldbeaters
Spark! is an original show which has been created in its entirety by Worldbeaters Music.
Everything you see is original: from the drums, lighting design and music; to the choreography and costumes. Set up in 2005, Worldbeaters is the result of a 20 year working partnership and friendship between Chris Maines-Beasley and Alex Tustin. Company ethos everyone deserves music inspires the duo to create dynamic, unique, and high quality musical shows for all ages to enjoy. Based in Whitley Bay, in the North East of England, this partnership is ever growing and has toured the world with its Spark! production.
'We just wanted to say thank you so much to the Sparks team who were absolutely amazing last night...but I don't think anyone has ever seen anything so electrifying and entertaining in Bromley before.' - Bromley Library Lates 2023.
'Never have I seen an audience so completely engaged in a piece of entertainment.' - Helen Thackeray, Hull City Council