Presented by Inua Ellams
A walking, arts-filled, night-time cultural journey through urban spaces, gathering strangers and local artists together to explore, play and create, whilst the city sleeps by Inua Ellams. 
Come and enjoy moments of genuine interactive creativity at the Midnight Run and take part in a spectrum of activities. Past MNRunners have enjoyed life-drawing, choral singing, puppetry, wrestling, cocktail making and tai chi, all whilst exploring a city as a group.
This special Midnight Run will take you on an adventure to celebrate the City of London's 21st century revival of London's ancient Bartholomew Fair, exploring nocturnal life of the Square Mile, The City of London. The route will journey past iconic City buildings as well as lesser-known nooks and crannies of the Square Mile as we celebrate a return to cultural activity. Come ready to explore, play and create.
The Run will be facilitated by Midnight Run Founder, Inua Ellams and two of his long-standing MNR collaborators, Vicky Wright and Kit Caless, all being joined by other local artists.
The Midnight Run was established by Inua Ellams in 2005, since then, there have been 48 events nationally and internationally.
Not all those who wander are lost – J.R.R Tolkien.
Book Tickets via Eventbrite (£): The Bartholomew Fair Midnight Run Tickets
Dates/Times: 31 August to 2 September: 5:45pm to Midnight
Start Location: To be revealed to those who buy tickets.
Duration: 6 hours
What to expect: Creative workshops / Interactive / Walking tour / Ticketed event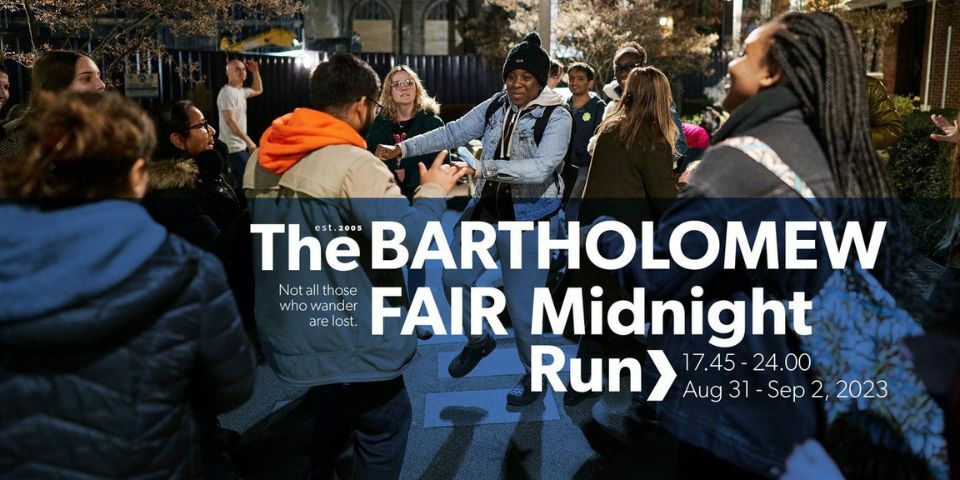 What is the Midnight Run? Watch a trailer :

About Inua Ellams
Born in Nigeria in 1984, Inua Ellams is writer and curator. He is a cross disciplinary artist, an internationally touring performer, a poet, playwright, screenwriter, graphic artist & designer. His published books of poetry include Candy Coated Unicorns and Converse All Stars, Thirteen Fairy Negro Tales, The Wire-Headed Heathen, #Afterhours, and The Actual. His first play The 14th Tale was awarded a Fringe First at the Edinburgh International Theatre Festival. His plays include Barber Shop Chronicles, Three Sister and The Half-God of Rainfall. He is currently touring Search Party, An Evening With An Immigrant and working on several commissions across stage and screen.
Audience quotes
'I've done a couple of these and they are the best way to explore the city, meet new people and open yourself up to new experiences artistically.'
'I loved it. It would be the perfect experience for newcomers to London but I've lived here most of my life and still discovered parts of the city I'd never been to.'
'It was a brilliant way of bringing back connectivity and togetherness.'