Presented by Always Drinking Marching Band
An amazing musical roadshow leaving its mark wherever it goes.
Made up of eight musicians and a crazy front man, this amazing musical roadshow reclaims the streets as a space to live and celebrate together. A unique and fresh concert for you to get involved with. Enjoy unexpected covers, original compositions, contemporary classics and surprising funny musical gags. This special blend makes the powerful rhythm and unusual sound of the Always Drinking Marching Band a one of a kind.
Dates/Times: 7 and 8 Sept - 4:30pm & 7pm / 9 Sept - 2:30pm, 4:45pm & 6:55pm
Location: Broadgate Circle
Duration: 30 - 45 minutes
What to expect: Live music /Comedy / walkabout / Interactive / Family friendly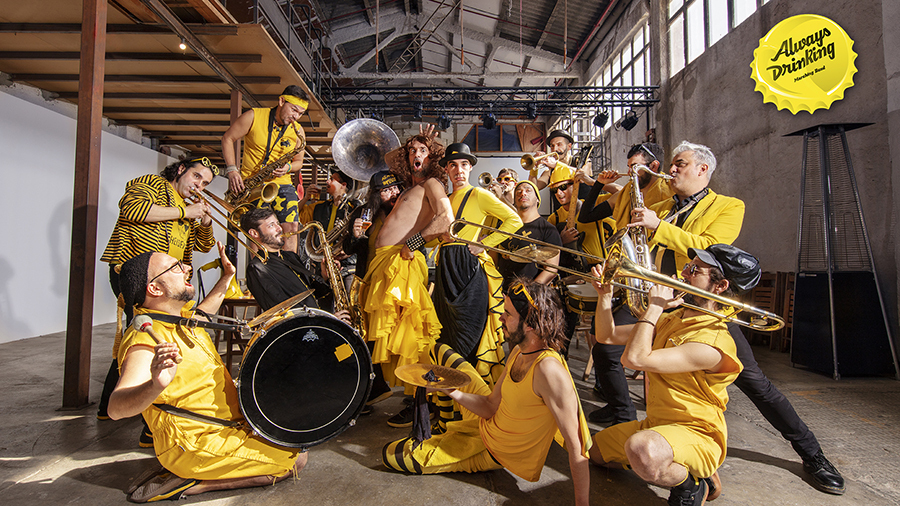 Watch the show trailer:
About Always Drinking Marching Band
The Always Drinking Marching Band is a company made by musicians, actors, technicians, dancers and poets that has been performing in the streets since 1997, throughout Spain but also elsewhere in Europe, Asia, Africa and América.
Their name refers to the Mediterranean " mode de vie", which includes socializing with buddies on streets and squares, having some beers and tapas, hence "Always Drinking..."​
And their goal is to reach all audiences being faithful to their trademark: high quality music combined with sharp humour.
'We were thrilled with the quality, professionalism and sheerfun of the band. They lightened up every corner they performed in.' - Festival of Thrift, 2017
'They are simply irreplaceable...Audience was crazy for them.' -  Zelis Niegaard, Danmarks Internationale Gadeteater, Festival Director, 2017.