Presented by Close-Act Theatre
Elegant and bright stilt dancers use their large wings to enchant and impress spectators.
Magical enchanting phantoms stride elegantly through the streets, endowed with transparent wings they seemingly float above the audience. For a moment they settle on the sidewalk to perform a handsome dance; both beautiful and bewitching. Watch in delight as they spread their wings, finishing the whirling white concert with a spectacular climax. These elegant apparitions then disappear in a majestic parade leaving you motionless and spellbound. A not to be missed street theatre performance by Close-Act Theatre.
Date/Time: 16 September - 6:15pm
Location: Lloyds of London, Lime Street
Duration: 45 minutes
What to expect: Processional performance/ Stilt walking / Live music / Interactive / Family friendly
Watching the performance: The performance will start on Lime Street, near the entrance to Lime Street Passage. Please gather on Lime Street and wait for the White Wings to emerge. They will then lead you on a processional performance around the area. Our event staff and stewards wil be on hand to offer assistance and answer any questions.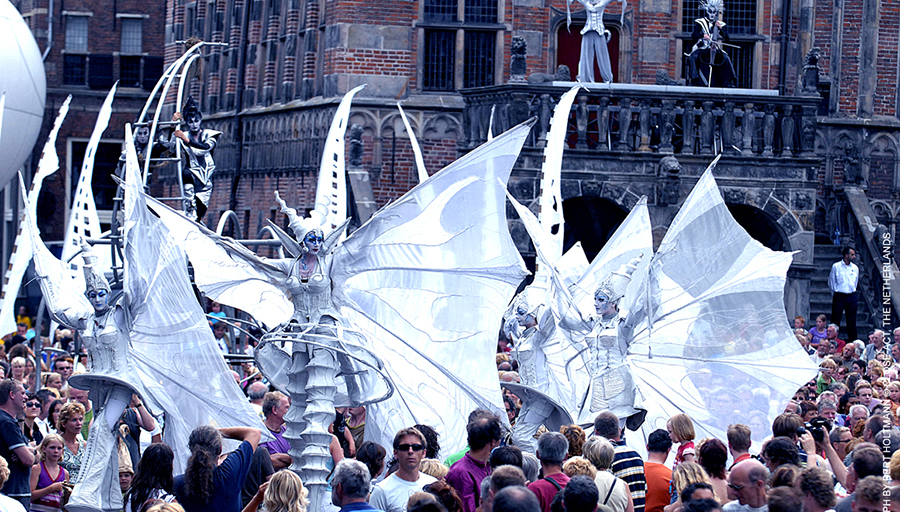 Watch the show trailer:
About Close-Act Theatre
Close-Act Theatre brings strong visual street theatre in larger- than- life spectacles. Previous shows such as Pi-Leau, Malaya, Invasion, Globe and the mobile acts have been performed at renowned international theatre festivals and events all over the world. The shows are multidisciplinary, combine theatre, stilts, music, fire, dance, metal constructions and aerial objects and are always staged amongst the audience.