Presented by Studio Go Go
VR thrill ride creators, Studio Go Go, bring you this exciting da Vinci-inspired virtual reality playground swing experience.
Volo celebrates the 500th anniversary of Leonardo da Vinci: his fabulous flying contraptions, his studies of flight, and his pioneering work on optical instruments. Climb aboard a playground swing, don a VR headset, and take flight in one of four award-winning Leonardo da Vinci virtual flying machines. Flap and soar over cliffs as an Ornithopter bird-person; ascend to join a psychedelic aerial ballet in your Helical Screw; shoot into satellite orbit from a renaissance cannon; or bank and weave in a Glider across extra-terrestrial landscapes.
Dates/Times: 7 and 8 September - 3pm to 8pm / 9 September - 1pm to 8pm
Location: Finsbury Avenue Square, Broadgate
Duration: always on
What to expect: Virtual reality / Installation / Have a go
Pre-Flight Information: You will wear a virtual reality headset, ride a swing and pilot an aircraft. Flights last 4 minutes. You can stop at any time. Please do not fly if you do not qualify:
For safety, pilots must be:
127Kg (20 stone) or lighter.
able to get on and off unassisted.
For safety, we recommend pilots be:
1.2 metres or taller.
8 years or older.
For physical health, pilots must not:
have a history of heart conditions or abnormal blood pressure.
have back, neck or similar conditions.
have a healing broken bone, or be wearing a cast or sling.
have had recent surgery or other conditions that may be aggravated.
be pregnant.
For mental health, pilots must not:
suffer from vertigo or be susceptible to motion sickness or dizziness.
fear enclosed spaces, heights, or speed.
have sensitivity to strobe effects.
Accessibility: One VR Swing Cube will be fitted with a wheelchair accessible platform. Please ask our flight operators for assistance.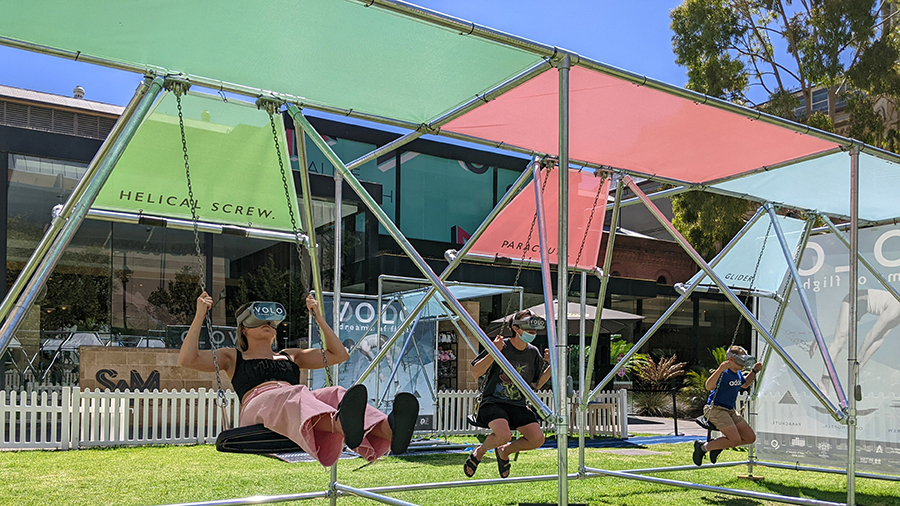 Watch the show trailer:
About Studio Go Go
Studio Go Go creates interactive Virtual Reality adventures that will propel your experience of a mechanical ride into whole new dimensions - with VR Swings and VR Fairground rides being licensed to operators worldwide.
The Studio Go Go team are world-class creatives and cutting-edge technologists, with an environmental agenda to develop thrill rides that can be distributed globally, to be played on locally-sourced VR headsets and mechanical rides.
Studio Go Go is directed by Brendan Walker, the world's only Thrill Engineer, who has extensive skills and expertise from working across the cultural and entertainment industries, including theme park ride design.
'A fun, light-hearted spot of immersion with Volo: Dreams of Flight.' - Collage, Adelaide.
'Volo is about as close as humans can come to flight - unless you have a jet pack in the garage - in this complete one-of-a-kind audience experience.' - Mirage News