Presented by The Flying Buttresses
Find out what the Tortoise Taught Us when you encounter Zelva, an amazing and beautiful giant Tortoise. She walks, she eats the food you offer her and this incredible Shellebrity can even sign you a Tortograph.
Under the turteledge of her witty and knowledgeable handler, Sheldon Aristurtle, you will learn how to slow down and stop to eat the roses! Zelva can be shy at first though - maybe if you offer up her favourite snack, you can bring her out of her Shell? Lettuce hope so!
A spectacular, one of kind experience from award winning Theatre co The Flying Buttresses.
Dates/Times:
7 and 8 September - 3pm, 4:45pm & 6:45pm
9 September - 2:15pm*, 4:15pm & 6:10pm* (please note updated timings)
Location: Aldgate Square
Duration: 30 minutes
What to expect: Theatre / Walkabout / Interactive / Family friendly / Great for kids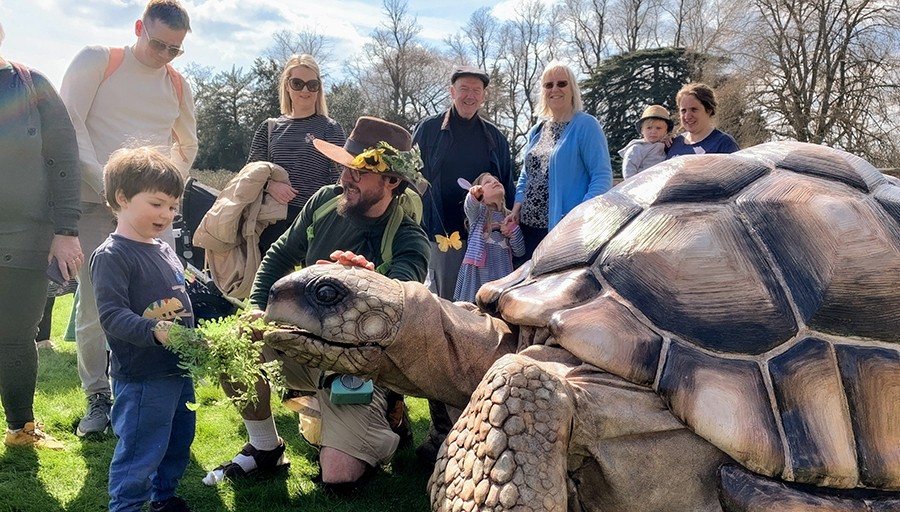 Watch the show trailer:
About The Flying Buttresses
The Flying Buttresses, are creators of the world famous street theatre act Hodman Dodmanott and Sally Forth and the amazing Zelva the Giant Tortoise. They have been wowing audiences since 2002 and have garnered a devoted global following.
Their attention to character development and detail led to accolades like being voted the top act in Paulusfeesten, Belgium's 50-year history. Their latest act, What The Tortoise Taught Us, showcases 20 years of groundbreaking animatronics research.
As Special Effects artists they've worked for numerous prestigious companies, the Olympic games, and Hollywood blockbuster films.
'Quite honestly the most unique and wondrous act we have ever had.' - Newport Big Splash